A small indie game company formed by two very determined digital artists. Our goal is to bring LGBTQ+ content into different genres of visual novels through compelling stories and beautiful artwork. Welcome to our team's website!
night/shade: you're the drug
is out now!
the team
---
Chaz G. (Kinghime) - Co-Founder, Creative Director, Animator, Artist
King is a full-time independent contractor that offers freelance illustration and merchandise services inspired by anime. They graduated with a BFA in Animation from SCAD where they managed large short-film teams. Animation is a passion they now explore within visual novels. With skills in character design, illustration, and visual story-telling, they excel in creating character-driven content.
---
Logan K. - Co-Founder, Creative Director, Writer, Artist
Logan is a digital artist who has many years of managing his freelance business under his belt. After studying at CCAD for illustration and game design, he began honing his art and story-telling skills. Through running his solo business, he has gained an affinity for product merchandising, collaboration ventures, and teaming up with other artists to bring visions to life. With a particular interest in story telling and character design, he brings a whole new perspective to the collaboration that is the Thrill Switch team.
---
We contract other freelance artists, programmers, and creatives for each individual project. You can find non Thrill Switch affiliated team members on each current project's page.
job opportunities
Below are a list of different jobs we are looking to contract for. If you are interested in any of these positions, feel free to email your resume or portfolio to:nightshadeprojectinfo@gmail.com
---
Social Media Manager (Contracted, 1-3 hours a week at 15/hr)We are currently looking for someone who is experienced with Twitter, Instagram, and TikTok and willing and able to curate and schedule posts for our social media sites. This position is contracted, meaning you are an independent contractor, not an employee of our studio.You will need:
Experience with Twitter, Instagram, and TikTok. A willingness to learn is also okay, for the right person.

Creative ideas and unique posts that follow current trends and memes.

A small understanding of graphic design, though it doesn't have to be your passion.

The ability to meet with us once a week or once bi-weekly on voice chat.

An incredibly adaptable person who is okay with changing deadlines and last-minute changes.

An understanding of how to schedule posts and use crowdfire to do so (we already have an account, no worries, and the learning curve is fast if you don't know!)
Please send your resume and any examples of your work to:
nightshadeprojectinfo@gmail.com
Games
night/shade: you're the drug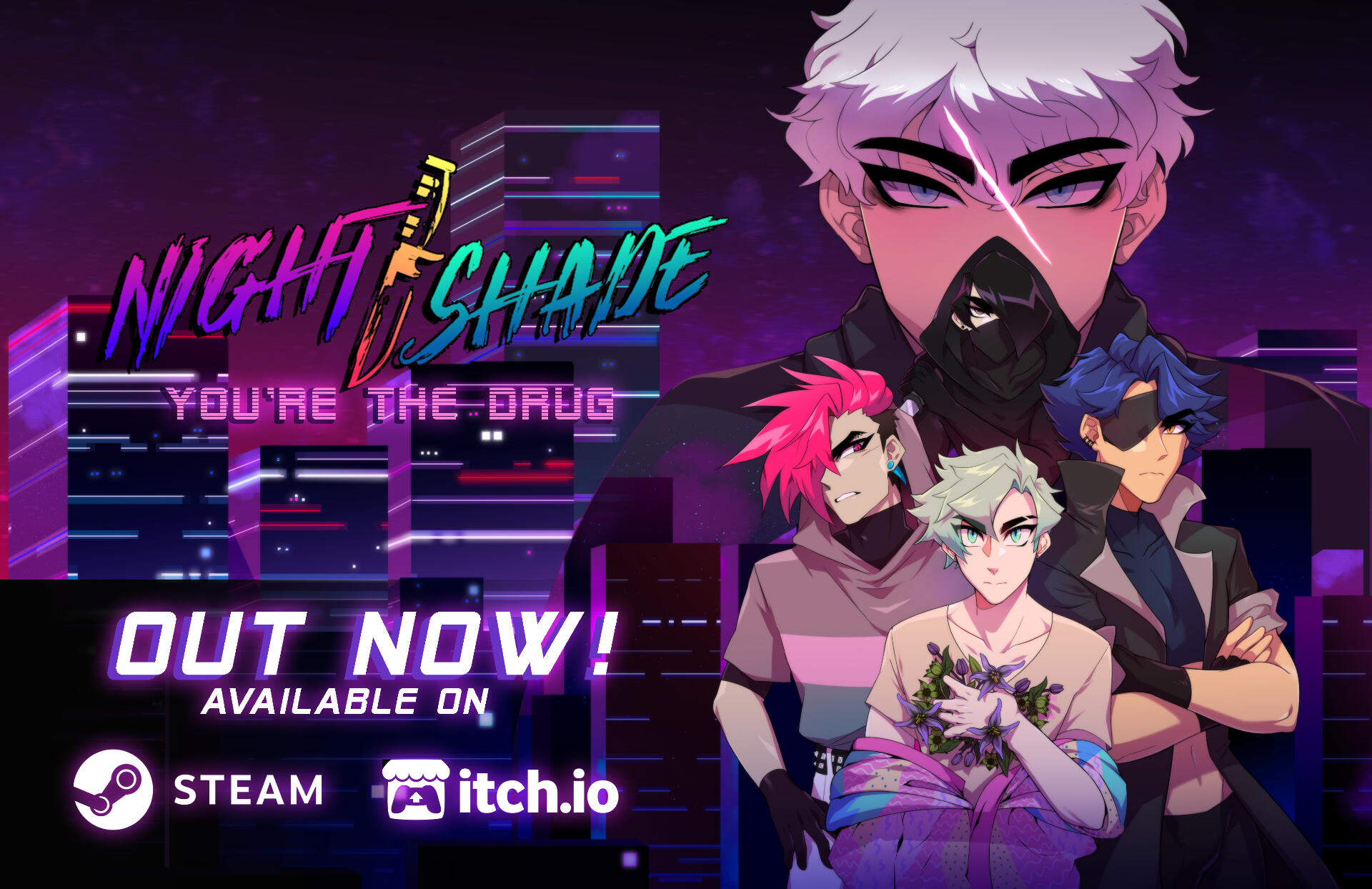 Available now on Steam and Itch.io!
The visual novel, NIGHT/SHADE, is a story about facing and overcoming the toxicity within interpersonal relationships as well as within oneself. This character driven plot explores the complexities of love and loss in the form of a romantic thriller. With the colorful aesthetic of synth-wave and the nightlife of a near futuristic city, NIGHT/SHADE will take you on a turbulent, passionate experience unlike any other.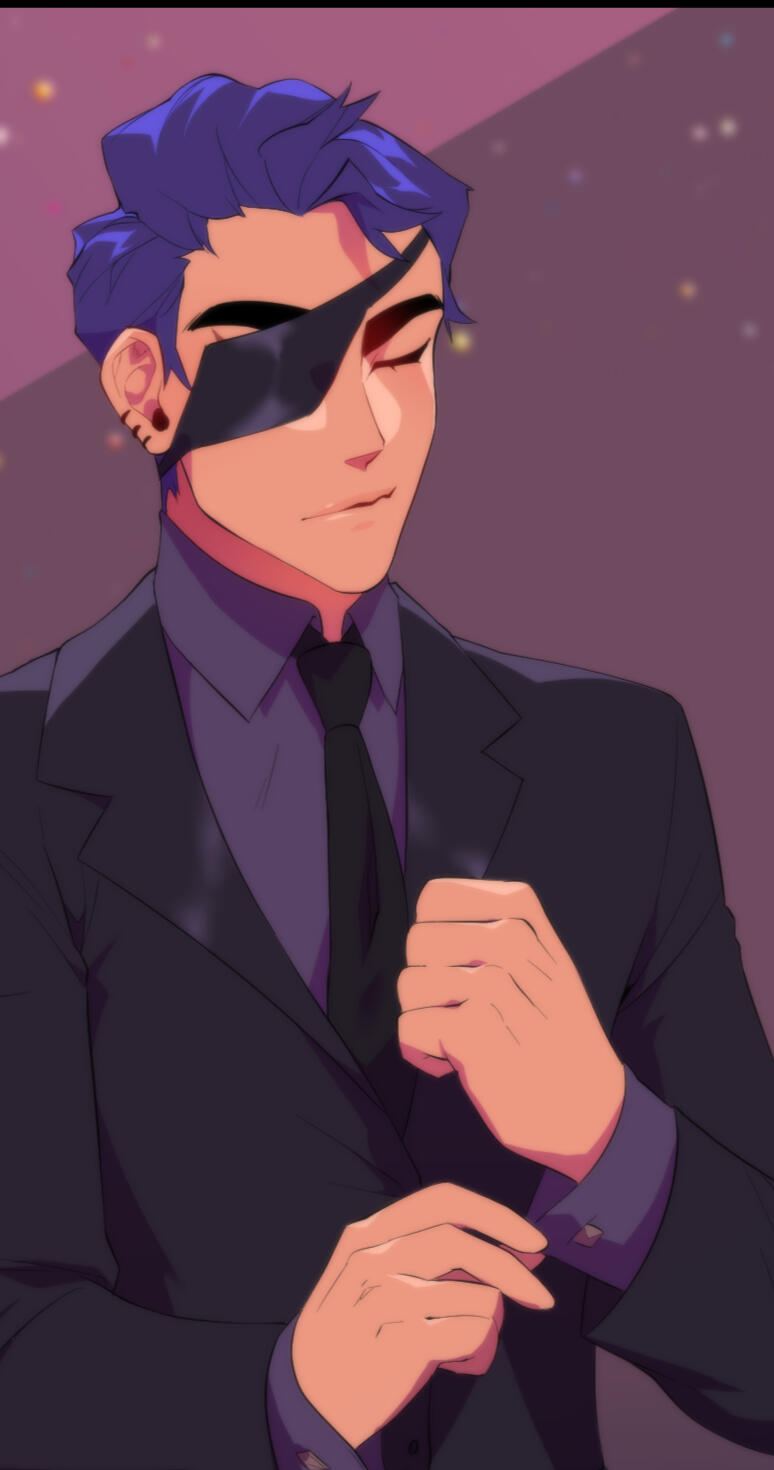 contact us
If you'd like to get a hold of Thrill Switch Games, please fill out the form below. We'll get back to you as soon as possible. Thank you!
Fan creation policy
We at Thrill Switch Games believe strongly in respect for small creators and indie studios alike. Regarding that respect, we ask that our friends and fans please take a moment to read over our studio policies regarding fan-made content involving our copyrighted properties, both intellectual and tangible. We have broken this policy down into questions that you may have for an easier read!Can I create fanart of any Thrill Switch production?Yes! You may make fanart, fanfiction, and any other fan-made content of any of our works, including NIGHT/SHADE © and Evil Like Me ©, as long as the fan-made content abides by our core values and is not racist, homophobic, transphobic, bigoted, or otherwise hateful and harmful.PLEASE NOTE: The character, Ada, in NIGHT/SHADE ©, is trans masculine. If you are going to draw fanart of him, please be courteous and cautious when it comes to "gender-bending". Gender-bending a trans masculine character may come off as insensitive to some, so please exercise consideration when creating fan works of Ada. This is a direct note from his creator, a trans man.Can I sell the fanart that I make of any Thrill Switch production?We ask that people please do NOT sell any merchandise of any Thrill Switch works, including NIGHT/SHADE © and Evil Like Me © at this time. We are a very, very small studio, and while we love to see fan creations, purchasing merchandise through our official studio store is a great way to support us!Will you have a Thrill Switch store open so that we can purchase merchandise?Yes, we have a store that you can purchase merchandise from, here!Are you open to partnerships?We are definitely leaning into this idea, yes! Currently, we have nothing official just yet, but may be aiming to work with other artists and studios who may want to collaborate and partner for official merchandise runs and limited time items. If you're interested in this partnership, please contact info@nightshadevn.comIf you have any further questions, comments, or concerns, please feel free to contact us!
Vending & artist alley
More than simply developing visual novels, we at Thrill Switch Games are artists first and foremost. We attend and deal at many different conventions selling our merchandise and advertising our projects.We sell an array of merchandise, including posters, enamel pins, stickers, buttons, keychains, apparel, art anthologies, and game codes for our visual novel, NIGHT/SHADE: You're The Drug.
Merchandise
Previous Conventions
Midwest Fur Fest 2016 : Chicago, IL
Midwest Fur Fest 2017: Chicago, IL
Midwest Fur Fest 2018: Chicago, IL
Furry Weekend Atlanta 2018: Atlanta, GA
Furry Weekend Atlanta 2019: Atlanta, GA
Furry Weekend Atlanta 2022: Atlanta, GA
Ohayocon Anime Convention, 2020: Columbus, OH
JAFAX Anime Convention, 2019: Grand Rapids, MI
Anime Central, 2019: Chicago, IL
Motor City Fur Con, 2019: Southfield, MI
Texas Furry Fiesta, 2018: Dallas, TX
Youmacon Anime Convention 2019: Detroit, MI